¡Gringos en Mexico!
Americans as well as Canadians have been referred to as "gringos" in Mexico for a couple of centuries. It's not necessarily derogatory. Or perhaps we've just embraced the term, like the "chilangos" have from Mexico City which I will write about more below. (Also, there are so many different etymological interpretations as to the origin of the term that you can check my link to Wikipedia at the end.)
As a gringa myself, here in San Miguel de Allende since 2010, I have most likely been photographed while pointing a camera at a door or a person selling trinkets. While taking the same shot of Jesus in a cemetery I captured this guy. (I am also drawn to photographing gravestones, religious art, personal and flower offerings made by families in homage to their lost ones.)
Events such as the Women's March can bring hundreds of us together on the streets. In 2017, the march included 2000 people. Here are a few images from the 2018 gathering where three friends from France and New Zealand joined us.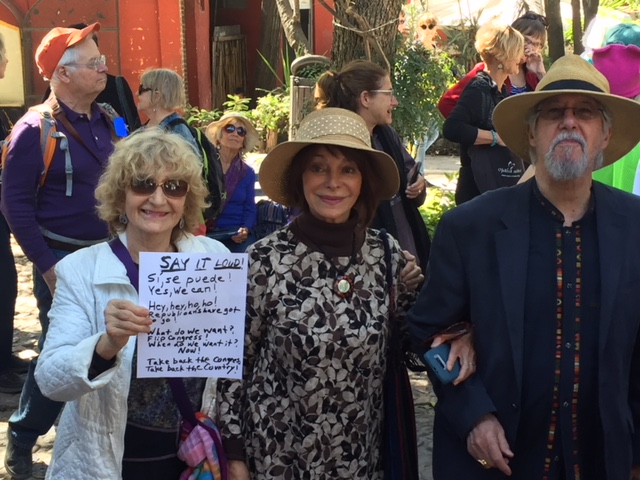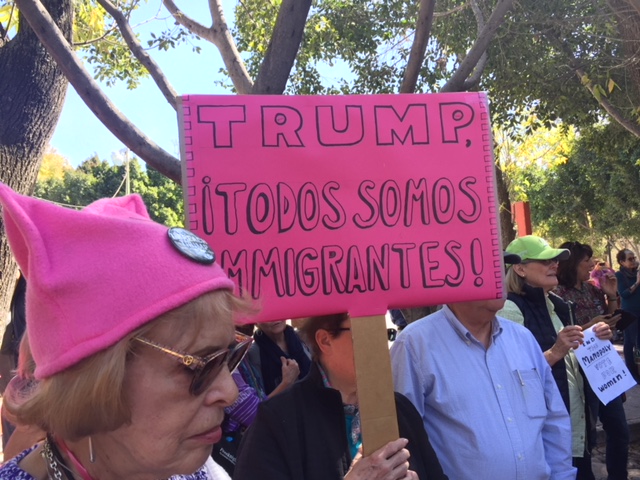 Back to the Dia de los Muertos costumes and masks where photographing is de riguer!
Four dogs in costume along with mom.
And now a Chilango couple:
We are not the only "extranjeros" (foreigners) who may stand out in San Miguel. People from all over the world, including China now come or live here. (After all, this has been a #1 place to visit in the Travel and Leisure magazine for four years). Just like in Manhattan, it works: we all seem to blend in together. However, unlike back north, people invariably smile as they pass one another on a narrow street sidewalk or in the market.
And then there are those who don't smile much to passersby: the "chilangos", a slightly derogatory term of those who harken from Mexico City. Chilangos, are typically far fancier folks than San Miguelenses or, for that matter, us gringos — a big generalization for sure. However, as I've learned over the years in chatting with taxi drivers and neighbors, their slightly proprietary, even entitled manner is not always appreciated by locals. And, gringos leave bigger tips — or so I've heard.
San Miguel de Allende has become a major destination for weddings and partying as well as for religious festivals, such as the Dia de los Muertos, Xmas and Easter, that go on interminably amidst fireworks and music galore. One can have a field day photographing men in tuxedos and women in sequin dresses in front of an 18th church, such as the Parroquia at the Jardin or following mariachis down a street behind the Mohigangas, (large puppets) to the wedding reception. I'm always amazed at how a "chilanga" can, oh so deftly, maneuver her way on the cobblestone streets in spiked high heels. But then, a gringo woman in just a pair of sneakers may just as easily go tumbling down onto the hard stones. After all, this is "the city of fallen women".
For various interpretations of the term, gringo:
https://en.wikipedia.org/wiki/Gringo
AND, re. the word: chilango: A friend pointed out that: "The term chilango is a corruption of Nahuatl word chilanko which means red skin. The Spanish conquerors skin sunburned at the high altitude of Mexico City which earned them this nickname, now applied to folk from la ciudad de Mexico."