CATRINAS, MARIGOLDS AND ALTARS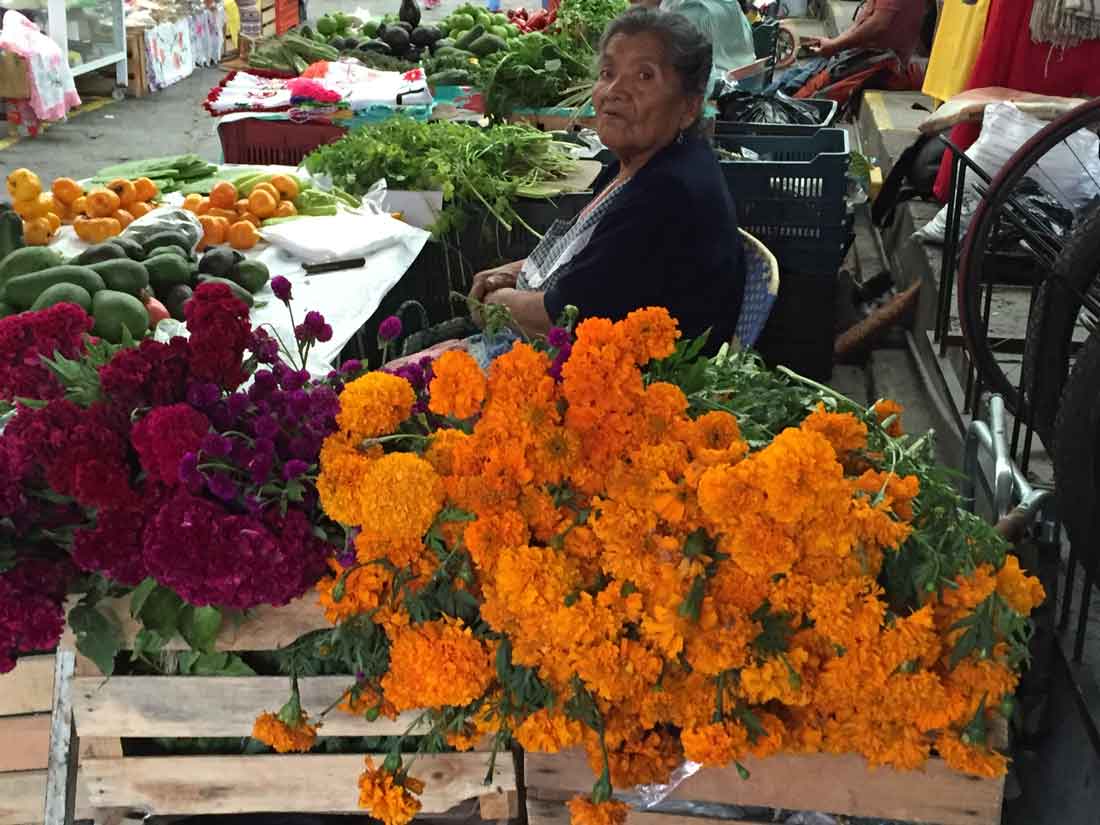 In Mexico, el Dia de los Muertos or the Day of the Dead, is one of the most cherished holidays of the year. (And I say "holiday" because while it is about death it's also about life. The celebration of life.) Not just one day it actually encompasses four: November 1st and 2nd. These are the holiest of the days. This is when relatives and friends invite their now disappeared loved ones either at the cemetery or at an often lavish candle-lit altar at home, or both. It's an invitation for the dead to return and co-mingle again, albeit for a brief moment.
To lure them, a profuse plethora of ofrendas or offerings is assembled at the altar. These include candles and flowers, particularly orange marigolds but also tropical, dark red cockscomb that represent the blood of Christ. On the altar, an image — or a photo today of the loved one, is surrounded by a generous overflow of oranges, seeds, breads, ornate and colorful sweets in the shape of skulls, flowers or even tiny, fancy chairs. And, while a glass of water helps the loved one on his or her journey between the two worlds, a shot of tequila or mescal won't hurt either.
(As an aside, about three years ago I stumbled across an altar that included an image of Steve Jobs along with apples and Apple icons ... I wonder what the Aztecs or going back further, the Mayans would think. They might be amused since priests and royalty were highly honored as well.)
Typically, in the West, death is represented as a skeleton, a skull or a character wearing a hood and cap carrying a scythe. However, here in Mexico the female Catrina, immortalized by Diego Rivera, is becoming more and more popular. Veering culturally away from the neighbor to the North's Halloween icons such as ghosts and devils, is this wondrous creature visiting from beyond. In the evening here in San Miguel de Allende's plaza or Jardin one sees women, with their skeletal-like painted white and black faces donning toothless smiles, wandering about Jardin, in late 19th century long, white, fancy (lace and, satin are de rigeur) dresses. And there are the outrageous hats.
Men, also with their fanciful painted faces — now a big industry here , dress formally. Instead of the usual T shirt and jeans we know, are 19th century gentlemen often wearing a top hat, even holding a cane. All amble past the Jardin's large, intricate and artistic altars. In the night mariachis play music; some people dance.
Such festivities, bordering on a Carnival, may seem bizarre to Gringos. However, many in costume also join in the fun. There is even a parade that includes one's dressed up dogs. Actually, this shouldn't be so strange since in the pre-Colonial period indigenous peoples believed that a dog leads some, such as children, to the world beyond.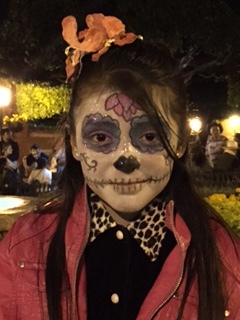 The image of the Catrina first appeared on the scene when, in the late 19th century, the well-known political cartoonist, José Guadelupe Posada making mockeries of the wealthy bourgeoisie, drew skeletons wearing fanciful hats with immense feathers, reminiscent of the Aztec god, Quetzalcoatl. A few decades later, Diego Rivera immortalized la Catrina in his famous mural: Sueno de una tarde dominical en la Alameda Central (Dream of a Sunday afternoon at the Alameda Central. In it is a self-portrait: a short young man with stripped knee high socks holding her hand. Behind them stands Frida Kahlo.
Marigolds, or Cempasuchil are native to Central America. From hanging baskets to lavish, decorated doors, they are ubiquitous during this period. Why marigolds? I wondered. (Personally, their odor makes them one of my least favorite flowers. Giving in however, I bought a bunch and placed them in vases outside our door.) Upon asking about their symbolic significance, one man in the mercado replied: "well, you know how the body smells after it dies…." We both laughed. Another explained that it's the precisely the odor that invites the dead to pay a visit.
Important to mention is how people honor the dead by also bidding a safe journey home. From ancient times, marigolds would lead the way. In pre-Columbian cultures the dead return to a variety of worlds according to age, status, etc. I relish returning to Mexico and experiencing the fusion of ancient Mesoamerican cultures with the European including the powerful Catholic church. In my pilgrimage I know I'll come across once again those profuse necklaces of marigolds perhaps decorating a bottle of mescal or a Christian cross. The cross may even be made of orange marigolds.